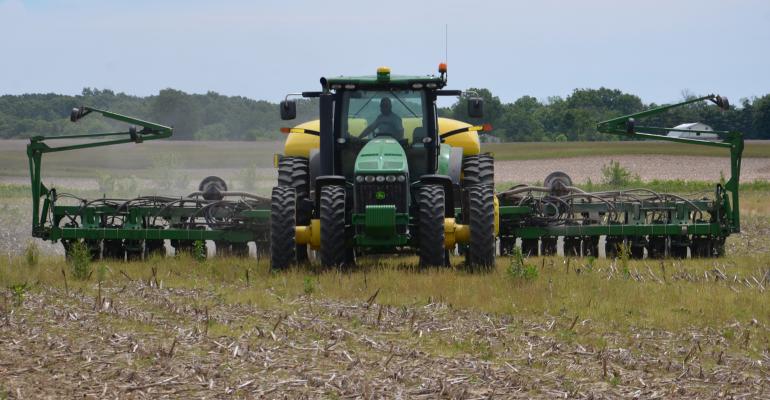 Soybean Corner: Neighbor won't grow 55-bushel beans planting July 15 every year!
Mar 08, 2022
A neighbor broadcast-applied soybeans on July 15 and worked them in lightly. It was irrigated and made 55 bushels per acre! How do you explain doing everything against the book and harvesting a good crop?
The Indiana certified crop adviser panel answering this question includes Gene Flaningam, Flaningam Ag Consulting LLC, Vincennes; Brian Mitchem, area manager for Nutrien Ag Solutions/Loveland Products, Decatur; Jeff Nagel, agronomist for Ceres Solutions, Lafayette; and Shaun Casteel, Purdue Extension soybean specialist.
Flaningam: Two factors contributed to yields from the July 15 soybeans. First is the ample supply of water from irrigation. Second is the extended growing period due to a late frost. Sometimes Mother Nature works in our favor. I still strongly suggest planting soybeans as early as possible to benefit from longer periods of sunlight during the reproductive growth period.
Mitchem: Sometimes plants don't read the book. Long-term research shows a yield advantage to early planting and ultra-early planting when soil conditions allow.
There are several agronomic reasons why we've seen bean yields increase with an expanded planting window. First is the research commitment made by genetic suppliers in bringing better-performing beans to market. Soybean varieties planted today have about 14 days more time spent during reproduction compared to older genetics. Lastly, we're experiencing more frost-free days. It's common for double-crop beans in the northern third of the state planted in early July to yield in the 50s.
Nagel: Welcome to farming! It's great that it worked out, and irrigation helps. It could be a different story when the growing season isn't as cooperative.
Numerous planting-date studies in Indiana and Illinois show that soybean yields generally decline by 20% by mid-June. But there are exceptions. In some years, yields were 90% to 95% of maximum yields. Higher potential is usually more consistent with earlier and more timely planting. Timely planted soybeans allow for more hours of sunlight in the reproductive stages that can lead to more nodes per plant, longer flowering time and more pods per node. Later-planted soybeans have a shorter time between first flower to physiological maturity, and thus a shorter time for pod set and filling.
Casteel: Soybeans have an amazing ability to adapt. How many of us have seen soybeans growing in gravel around machine sheds? Soybeans can adapt based on planting conditions, seed spacing and environmental conditions. The adaptation comes in various forms, such as branching when plant population is poor or seed fill when pod load is low.
In the scenario described, Mother Nature and irrigation likely made a huge difference. Timely rains allowed seeds to germinate and establish a quick stand. Ample sunlight and warmer temperatures came back in the middle of July and continued through August and September, so plants were able to grow and develop at a fast rate. Late-season conditions, irrigation and favorable fall conditions allowed that crop to have fair pod set and fill out those pods.
Timely planting of soybeans is still one of the most important decisions to establish yield potential. Indiana soybeans were planted at record paces in 2020 and 2021, followed by record-breaking yields each of those years. Obviously, the rest of the season ultimately determines the final yield, but timely planting helps place odds in your favor.