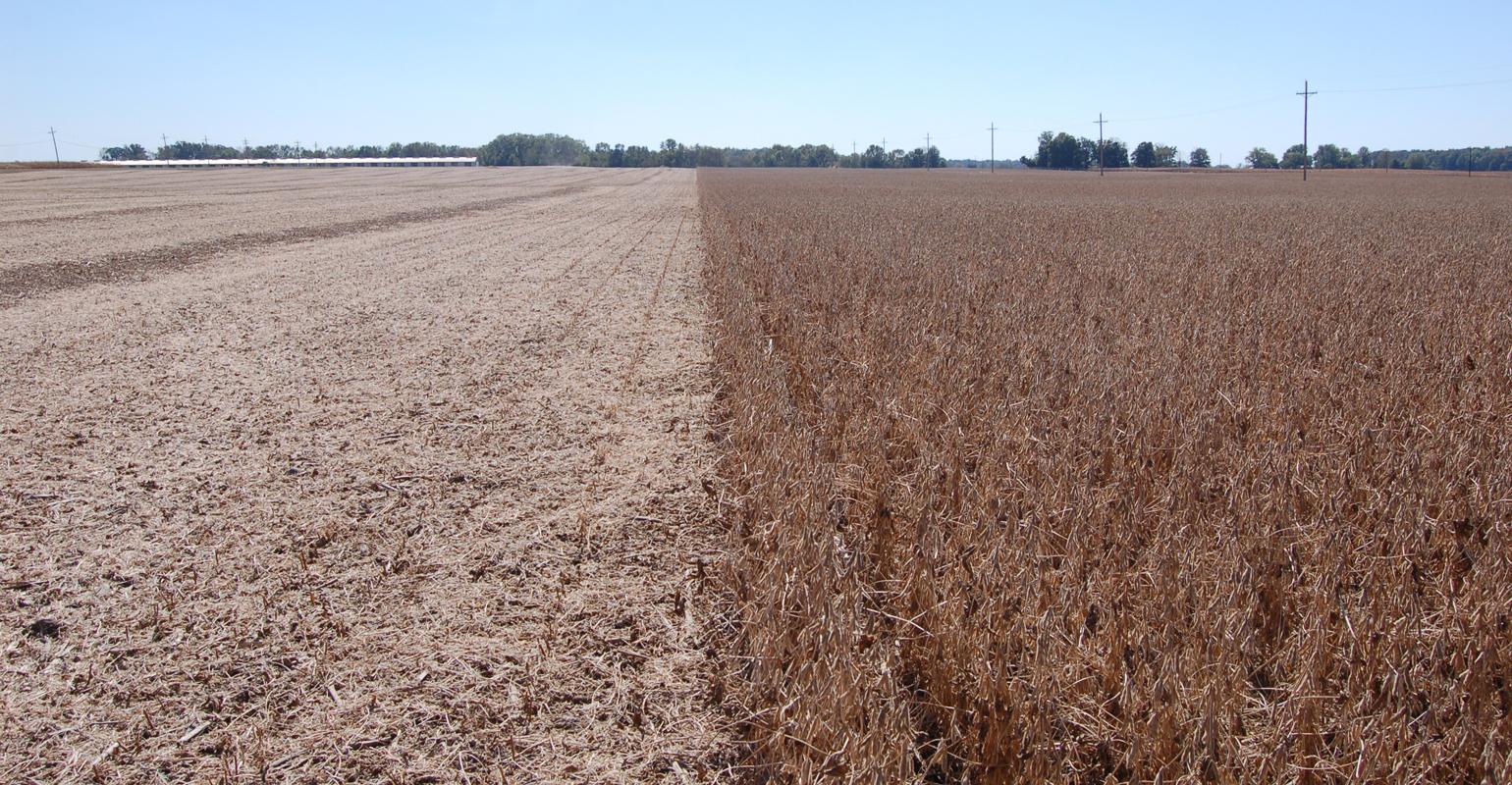 Soybean Corner: Wider heads on combines and no-tilling make residue spreading crucial.
Aug 31, 2021
After checking corn stands last spring, my crops consultant said I need to do a better job of spreading soybean residue. Why is that important, and how can I manage residue better?
The Indiana certified crop advisers panel answering this question includes Traci Bultemeier, an agronomist with Pioneer near Fort Wayne; Jesse Grogan, a retired agronomist based in Lafayette; and Bryan Overstreet, an ag educator for Purdue University Extension in Jasper County.
Bultemeier: Consistent and uniformly distributed residue results in a better corn stand the following year. Planting into a heavy residue concentration typically results in lack of seed-to-soil contact, which in turn reduces emergence due to temperature and moisture variability, weaker early stalks, and poor root growth.
Be sure to maintain your residue chopping system on the combine. Dull knives and worn parts can make chopping the residue more difficult and will slow down residue velocity, leading to a reduced spread width. If these conditionsoccur behind every combine pass in a field, imagine how many bushels will be lost. All your expensive seed, fertilizer and chemical inputs will be worthless in those strips, and it could be fixed by visiting your owner's manual and making some adjustments to the chopper and spreader — that's why it's important!
At planting time, consider the importance of row cleaners on the planter to help move the residue, which reduces the impact of residue on seeding depth.
Grogan: Emergence and early growth of corn can be delayed because of cooler and wetter conditions under small piles of soybean residue in the seed row. Delayed emergence places these plants behind and not competitive with plants nearby. Residue should be well distributed behind the combine header with choppers and spreaders.
Another method is to use row cleaners on the planter to "float" above the soil surface and remove any residue over the seed furrow at planting.
Fall tillage with a vertical-tillage tool can be adjusted to your soil conditions to mix soil and residue effectively. However, heavy rains can wash lightly incorporated residue into catchment areas. Fall chisel followed in the spring with a harrow, field cultivator or mulch finisher also manages soybean residue to prepare a suitable seedbed for corn planting.
Overstreet: If the residue is too thick, it can cause problems in a few ways. The first is that the soil could be wetter and cooler underneath the thick mat of residue. This could cause planting problems and slower germination. Second, if your planter is not set up properly, it may not cut through the residue properly, or you may not have enough down pressure on those areas — creating poor seed depth control and placement at best, or not covering the seed properly, worst case.
This problem can easily be solved during harvest this fall by looking at your pattern and making the adjustments on your combine. An easy way to see your pattern, if you have access to a drone, is to fly above the combine as it goes through the field and see how far it is spreading. Determine from drone flight images if the combine is spreading uniformly across the swath of the cut.