Indiana CCA Conference 2021 Presentation
File
Presentations
W11
Crop Management
Wed, Dec 15, 2021
11:00am to 11:50am
W4
Crop Management
Wed, Dec 15, 2021
4:00pm to 4:50pm
Can We Jump-Start Soybeans?
Intense management of soybean has been of interest over the last ten years, especially as we push plantings earlier and earlier. Field conditions often are cool and wet during the early plantings and thus, the need to provide protection and supply nutrients come into question. Equipment technology has also advanced to provide these inputs within the seed furrow and within the sidewalls in addition to traditional starter placements. This presentation will summarize various trials over the past few years that have evaluated in-furrow and starter fertilizer applications to enhance soybean production with nitrogen, phosphorus, potassium, and sulfur (S).
One example of these trials included our S Starter x Rate and Placement study. We evaluated 3 starter S fertilizers applied at 4 S Rates in 2 placements (3 x 4 x 2 factorial) at Wanatah and West Lafayette in 2019, 2020, and 2021. Three starter S fertilizers were ammonium thiosulfate (ATS, 12-0-0-26S, Hydrite Chemical), potassium thiosulfate (KTS, 0-0-25-17S, Hydrite Chemical), and K-Fuse (6-0-12-12S, NACHURS). These products were applied at four S rates: 5, 10, 15, and 20 lb S ac-1 to determine optimal S rate and in two placements (single: 0 x 2 in x 1; dual: 0 x 2 in x 2). Placement had minimal impact. Late plantings of 2019 likely offset the responsiveness to the fertilizers. In West Lafayette 2020 (timely planting), all three starter S fertilizers increased yield to a plateau. Yield increases were 3 to 6 bu ac-1 with 4 to 10 lb S ac-1. Preliminary results from 2021 will also be shared.
Speaker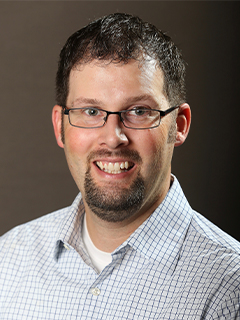 Shaun Casteel
Associate Professor
Purdue University
Biography
Shaun Casteel, Ph.D., is Associate Professor of Agronomy and Soybean & Small Grains Extension Specialist for Purdue University. Dr. Casteel was born and raised on the family farm in east-central Illinois. He earned his B.S. in Crop Sciences at the University of Illinois, his M.S. in Crop Science and his Ph.D. in Soil Science at North Carolina State University. Since his arrival at Purdue in 2009, he has given over 700 invited presentations to 50,000 people across 15 states & 8 countries. His Extension avenues include newsletter articles, YouTube videos, and now, the Purdue Crop Chat podcast.
Dr. Casteel addresses the challenges of soybean and small grains production by educating, training, and providing the most relevant information to farmers to enable timely and sound management decisions in these production systems.
Key areas of interest include: sulfur synergies, precision management of resources and practices; integration of soil characteristics, nutrient inputs, and crop physiology; and the influence of agronomic practices on yield physiology of first crop and double crop soybean systems. His practical research also extends to field-scale trials with seeding rates, sulfur, and intensive management of soybean.