Indiana CCA Conference 2022 Presentation
File
Presentations
T9
Soil & Water
Tue, Dec 13, 2022
9:00am to 9:50am
T2
Soil & Water
Tue, Dec 13, 2022
2:00pm to 2:50pm
A Prototype System to Evaluate the Potential Benefits of Using Recycled Drainage Water to Irrigate Corn and Soybeans
Annual precipitation in Indiana is typically greater than crop water needs; however, the timing of precipitation often does not coincide with those needs with excess precipitation in the spring and water deficits later in the growing season. Drainage water recycling (DWR) is the practice of capturing and storing water drained from fields in a pond, reservoir, or wetland, and using the stored water to irrigate crops when there is a water deficit. This presentation will describe the installation and first year of practice with a prototype drainage water recycling system installed at the Agronomy Center for Research and Education at Purdue University. Five corn and soybean treatments are evaluated that utilize surface drip irrigation, fertigation and intensive management using captured drainage water stored in an existing wetland. This research will evaluate if storing water on farms in Indiana offers direct benefits to Indiana farmers, while reducing nutrient loads from the farm.
Speaker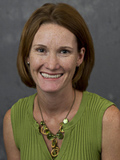 Laura Bowling
Professor of Agricultural Water Resources
Purdue University
Biography
Laura Bowling has been a professor in the department of Agronomy since 2004. She does not have an extension appointment, but her applied research interests include quantifying the streamflow and water quality impacts of agricultural drainage practices, investigation of edge-of-field and watershed-scale conservation measures to improve water quality, and evaluation of water resources sustainability, with emphasis on agricultural water use.