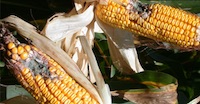 Bug Beat: Limited insect problems and the need to cut costs may prompt you to try and slide by on insect control for 2017.
Tom Bechman 1 | Sep 30, 2016
Here's the scenario you present to your consultant. You're going to plant corn after soybeans on the whole farm next spring. You didn't make any observations related to whether rootworm beetles were flying in your soybean fields in August. Nevertheless, you know you haven't had much trouble with corn rootworm for a while. The budget has to give somewhere. What you really want your consultant to tell you is if it's safe to forget about corn rootworm and leave off insecticide — even in fields where you plant non-GMO corn.
TREACHEROUS TERRITORY: Guess wrong on whether you need insect control in corn and the costs could be higher than what you saved. This mess resulted from western bean cutworm feeding. (Photo courtesy of John Obermeyer, Purdue University Extension entomologist)
If your consultant is Dan Ritter, an agronomist with Brodbeck Seeds, Rensselaer, and an Indiana Certified Crop Adviser, you might not like what he has to say. "Is it safe to forget about any pest?" Ritter begins. "I would suggest probably not."
Ritter doesn't argue the fact that rootworm beetle numbers seem to be suppressed lately. He attributes it to recent wet springs and use of traited corn.
Forgotten, not gone. "Does that mean they are conquered and will not return?" Ritter asks. "Certainly not in my book," he continues. "I'm continually amazed, given ideal conditions, how quickly pest populations can rebound.
"You may be able to sneak by without using insect control, given low insect numbers," he says. But then it becomes a case of what is good for the goose may not be good for the gander after all, he adds. "If more people do this — don't treat or use traits — expect pest pressure to increase significantly. I've already noticed it happening with European corn borer populations."
Still out there
Brian Shrader, another consultant you might encounter, sees the situation much the same way. He's an account manager for DuPont Pioneer, located near Marion, and also an Indiana CCA.
"Because of rootworm biology and the eastern variant [of the Western corn rootworm beetle], they will always remain a potential risk for most Indiana corn growers," Shrader says. It's the eastern variant that can lay eggs in soybeans and cause problems in first-year corn. Your location within the state plays a factor in the risk, he notes. The eastern variant has been most prevalent in northwest Indiana, but also has caused issues in the rest of northern Indiana, parts of central Indiana and select areas in southern Indiana.
There is another important consideration, Shrader says. Corn rootworm isn't the only insect that can cause economic damage in corn. And it's not the only insect that many
GMO traits protect against.
"Depending on the traits you choose, you may have protection from corn borer, black cutworm, western bean cutworm, earworm and other insects," Shrader says. If you opt for non-GMO corn, you're giving up protection against all of these insects that your particular GMO hybrids would control.
Betsy Bower, an agronomist with Ceres Solutions, Terre Haute, and a CCA, adds, "Corn borer is certainly another pest we need to keep in mind. "Corn borer-resistant corn is certainly still the best way to control this pest. Our in-crop applications to control this pest were never great in any case," she says.