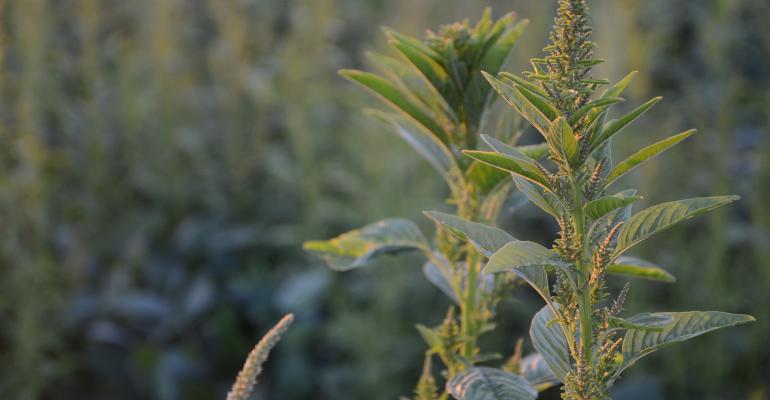 Soybean Pest Beat: Weed control is getting more challenging in soybeans.
May 01, 2018
I have weed escapes in soybeans and will need to spray postemergence. They are mostly marestail with some waterhemp and giant ragweed. They are Xtend beans, but I didn't intend to use dicamba over the top. What options would you recommend and tips would you give for controlling these weeds?
This month's panel of Indiana certified crop advisers includes: Don Burgess, agronomist, A&L Great Lakes Labs, Fort Wayne; Jesse Grogan, corn product development manager for AgReliant Genetics, Lafayette; and Bryan Overstreet, Jasper County Extension ag educator.
Burgess: When dealing with glyphosate-resistant weeds, options are somewhat limited for controlling escapes. If the marestail population is sensitive to ALS Group 2 herbicides, you have a few options for control of marestail, but be aware that these herbicide options may not be effective on waterhemp or ALS- resistant giant ragweed. The use of an approved PPO Group 14 herbicide will likely be needed to provide effective control of waterhemp and ALS-resistant giant ragweed. PPO herbicides can cause some burn to soybeans, but it rarely has a significant effect on crop performance. If the marestail population is ALS-resistant, effective postemergence options besides glyphosate are limited to labeled dicamba formulations in the Xtend program.
This highlights the importance of considering which herbicides you are willing to use prior to deciding on a herbicide tolerance program. Using LibertyLink soybeans in this situation would have allowed for the use of glufosinate, which can be effective in controlling marestail as well as giant ragweed and waterhemp if used when weeds are small. This also emphasizes the need for an effective preemergence program, which can reduce reliance on postemergence applications when dealing with these problematic weeds.
Grogan: There are few options to consider with these broadleaf weeds in postemergence applications. Most of these weed populations are resistant to botn ALS inhibitors and/or EPSP synthase inhibitors or glyphosate. Post-applied herbicide options are very limited. Herbicides that include diphenyl ethers like Flexstar (fomesafen) or Cobra/Phoenix (lactofen) will control giant ragweed and waterhemp but will not work on marestail. ALS herbicides like Classic (chlorimuron), First Rate (chloransulam-methyl) or Synchrony (thifensulfuron) will only provide marginal control of marestail due to herbicide resistance. The only option for mostly marestail in Xtend soybeans is approved dicamba. Application should be as early in the season as possible, when plants are small and air temperatures are lower.
Weed control in soybeans isn't simple anymore. The most effective weed control in soybeans is starting clean with burndown herbicides or tillage. Full rates of residual herbicides with multiple modes of action are essential. Dicamba is most effective, especially on marestail, when used as a preplant burndown with Xtend soybeans. Xtend beans can be planted immediately after a dicamba application with no waiting period.
Overstreet: With marestail, also known as horseweed, being one of the escaped weeds that you mention finding in your field, it doesn't leave you many options other than dicamba. With dicamba products designed for application over dicamba-tolerant soybeans, you will be able to clean up the other weeds also. You need to remember that all these weeds need to be sprayed early in their growth, when they're around 4 inches tall.