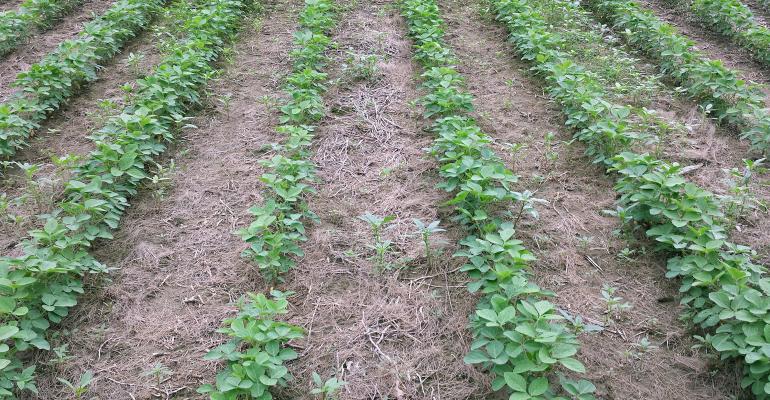 Soybean Pest Beat: Identify your weeds and control emerged broadleaves.
Apr 26, 2022
There wasn't enough timely rain to activate herbicides. Some escapes resemble pigweeds — could be waterhemp? Should we spray? If so, with what?
The panel of Indiana certified crop advisers answering this question includes Betsy Bower, agronomist for Ceres Solutions, Lafayette; Shaun Casteel, Purdue Extension soybean specialist; Greg Kneubuhler, G&K Concepts Inc., Harlan; and Bryan Overstreet, Purdue Extension educator, Jasper County.
Bower: The short answer is yes, spray now, especially if some weeds are tall waterhemp. Phone a professional for help identifying weeds. Rainfall can still activate herbicides and provide residual control of yet-to-emerge weeds, but likely not weeds greater than 1 inch.
With waterhemp, make sure effective herbicides get to and act on each growing point. The smaller the tall waterhemp, the better the chances of covering all growing points, even if the application is earlier than you intended.
Products that are effective include dicamba and 2,4-D if soybeans have those traits, glyphosate (Roundup), glufosinate (Liberty), and PPO inhibitors such as Flexstar if populations aren't glyphosate- and/or PPO-resistant. If they're just glyphosate-resistant, PPO inhibitors can still be used.
So, plan to apply postemergence herbicides now to control waterhemp. Optimize your spray application with the correct adjuvants, apply at least 15 gallon per acres of water, and add another layer of a soil-applied residual, such as Warrant Ultra, Zidua or Anthem Maxx.
Casteel: Start clean and stay clean. This approach optimizes yield potential where weeds could otherwise be competing for resources. Residual herbicides are certainly a cornerstone in keeping weeds at bay and reducing the population. Tall waterhemp, pigweed species and Palmer amaranth could be troublesome to identify as small seedlings. However, in-season management is crucial. A seemingly small number of weeds may have small impact on yield, but a large impact on weed seed production.
In-season herbicide options will depend on variety selection with or without herbicide resistance. Follow label restrictions based on growth stage and/or calendar date. In Xtend systems, dicamba registered products can be applied prior to R1. However, calendar date cutoffs often override the growth stage restrictions. June 20 is the application cutoff date for Indiana.
Kneubuhler: Palmer amaranth, waterhemp and pigweed can often be mistaken for each other. Nonetheless, they all have known herbicide resistance. Spraying them early and young is always your best option. I would usually not "save the money" and let them go. A postemergence application is always the safest bet.
Overstreet: Pigweeds will have a rough stem with hairs. Waterhemp stems will be smooth with no hairs. Waterhemp leaves are long and more lancet-shaped. Emerging waterhemp cotyledons are egg-shaped, whereas those of the pigweeds are more linear. Since there are separate male and female plants, there is a large variability in appearance. Waterhemp can grow over 8 feet tall.
Should you spray now? Yes! If you don't, they will be too tall for most labels by tomorrow. Waterhemp and Palmer amaranth grow fast.
What to spray? Much waterhemp across Indiana is ALS- and/or glyphosate-resistant. Other sites-of-action resistance are being found across the Midwest.
What seed trait package did you plant? If you planted Xtend or Enlist beans, this opens up your options. You can use those chemistries. Liberty is another option if you have that trait. If you didn't plant traited seed, your best option may be a Group 14 PPO inhibitor, such as Cobra or Flexstar.